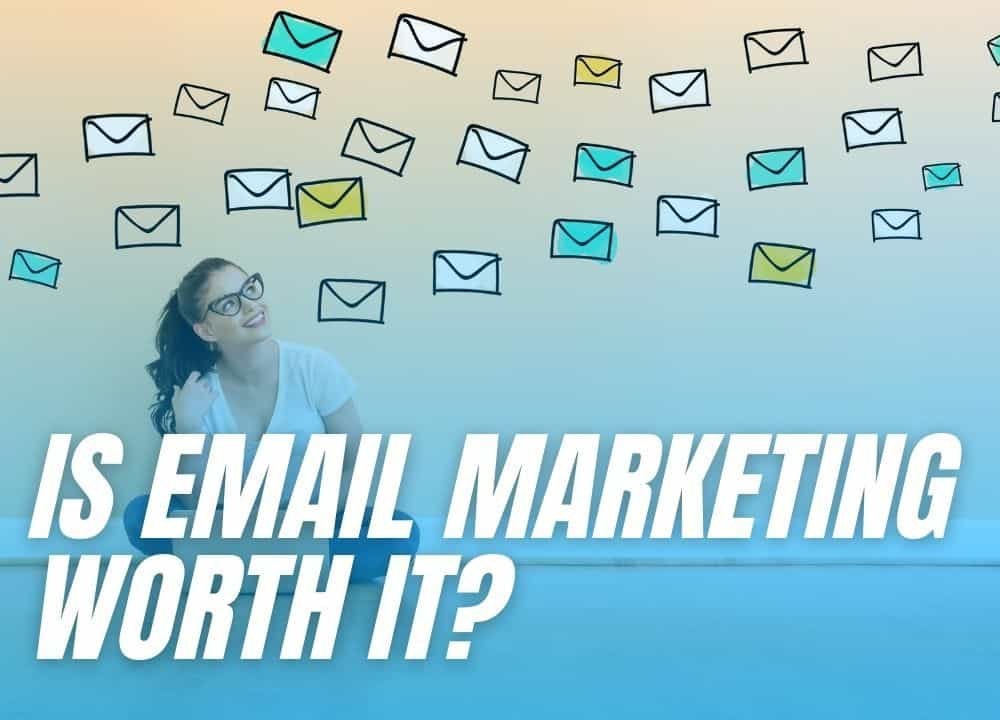 Email marketing is an effective way to connect with your audiences and sell your products online.
It's one of the oldest types of digital marketing techniques that are still used to date. However, Is it really worth your time creating and managing an email list?
Yes, email marketing is definitely worth the time and money you invest because it is one of the best marketing strategies you can use to grow your business and make money online selling products. 
In this article, I will share the advantages and disadvantages of email marketing and conclude whether email marketing is worth it or not in 2021.
So let's dive right in.
The Good Sides of Email Marketing
Let's take a look at the advantages of using email marketing and the things I really like about it.
1. The Stats are awesome.
Just take a look at some of the interesting statistics about email marketing.
The number of active email users are 3.9 billion at present.
ROI of email marketing is 42$ for every 1$.
Emails is 40x more effective than social media for customer acquisition.
Compare it with Facebook which is the largest social media platform has active users of 2.89 billion people every month.
And 99% of people would check their emails at least once a day.
Having an email address is so important for people these days because you need an email account to do any kind of activity online like sign up to a social media platform or making a purchase online, etc.
Because of the fact that the number of people with email accounts is increasing every year, it is expected that the user base would reach 4.3 billion by 2023 which is more than 50% of the world population.
That is insane.
Related Article – How To Grow Your Email List With Instagram
2. Great way to build relationships and brand.
Email marketing is one of the best ways to build relationships with your audience compared to other marketing channels.
There is a popular concept called the rule of 7 in marketing which says that your audience should listen, see or read your brand message at least seven times before they want to purchase your product or become a loyal fan of your brand and build trust.
With email marketing, you can build that relationship with your audience by constantly communicating with your audience through emails and sending highly targeted and relevant information to them through segmentation of emails to both large and small audiences.
You can send specific emails to your audience by segmentation of their characteristics which can strengthen your relationship with your audience. This can be easily done on platforms like Getresponse.
Now you understand why email marketing has an incredible return of investment of 42$ for 1$ because your audience in your email list interacts with your brand more.
3. It is customizable.
With email marketing, you can always customize your emails.
Email marketing platforms like Getresponse let you choose a lot of templates and themes. You can decide the color and the fonts, you can also add the logo of your brand in the email that you want to send to your audience, you can also attach graphics and files in your emails and do a lot more things.
4. You own the audience. 
By far the biggest advantage of email marketing is that you completely own the audience in your email list.
Compared to other marketing channels like social media, even if you have 1 million followers on Instagram you do not actually own the audience,
Instagram can delete your account or reduce the organic reach of your content if you don't follow their terms and conditions and the same is true for Facebook and YouTube.
And if you have 1 million page views on your blog, with the next Google update, you could potentially lose all of the traffic that you are getting to your website.
Yes, it can happen.
But, it is not the exact case with email marketing.
You don't have to follow anyone's terms and conditions to engage with your audience.
It is a more open platform not owned by a single company.
Related article: is SEO still useful? Pros and cons explained.
5. Easy to share. 
Since you own the audience that you have built on your email list you can share lots of different things like,
Email newsletters and also drive people to visit your website or blog posts from thoses emails.
Your own Products or send them coupon codes to make purchases.
You can also send lots of useful information to your audience and build relationship with them or educate them over a particular concept.
And, if the content that you send to your email audience is valuable then, your audience could also forward those emails to other people and this could lead to more exposure of your brand with word of mouth marketing and eventually more subscribers.
6. You can track and measure growth and success.
Another advantage of email marketing is that you can always track and measure your growth and the performance of your emails and content easily.
You can find amazing data like open rates, CTR, bounce rate, and many more in your email marketing tools.
By measuring, you can test different things and find out which works out for you.
What I don't like about email marketing
Now let's move on to the negatives and drawbacks of using email marketing for your business.
1. It is not passive.
Email marketing is not passive at all.
You should regularly and constantly send emails to your audience in order to stay relevant and get your audience to engage with your brand regularly.
Because according to backlinko, 43% of people prefer to unsubscribe from the email list because they did not remember the brand or they have signed up to their email list.
In order to avoid this, you should be constantly sending emails to your audience so that you can regularly stay engaged with them.
2. It requires knowledge and time. 
Unlike other marketing channels starting and running email marketing is not that easy,
First of all, you need to get emails from your audience and you can do this by creating a lead magnet that offers a free service or product or course or anything of quality that people can get by entering their email addresses.
If you are a total beginner in the industry then it can take a lot of time to create this lead magnet and then you should be able to market that lead magnet on Facebook, your blog, or any other social media platforms.
You should also learn how to use email marketing tools to build an email list and send emails to your audience.
Overall, it is definitely not as easy as starting a blog or a Facebook page, it definitely requires more knowledge and time and even some initial investment to start building an email list of your audience.
Related Article – 5 Cheap Landing Page Builders For Beginners
3. Size or delivery issues are crucial.
Even though you can share any type of content with your email subscribers like media files, documents, and more, you should be careful when writing the subjects and the email copy.
The stats are that,
69% of email recipients can use the subject line to tell if it is spam
42.3% of people will delete an email if it's not optimized for mobile
47% of email recipients will open your email based solely on the subject line
If users see that your emails appear to be spam in nature through the subject line then either they will not open the email or the email service they use like Gmail or yahoo would block those emails.
And before sending the emails to your audience you should also check whether your emails are optimized for mobile users or not.
All these small things can make or break your email marketing campaign.
4. It is not free. 
Even though you can use free/cheap email marketing tools like GetResponse to start building your email list. You will have to upgrade to a bigger plan after you exceed the limit in the free/basic plan which is not that expensive but definitely not free after some time.
GetResponse has to be one of the cheapest and the best email marketing tools out there. Their plans start at just $15/month. It will gradually increase as your email list begins to grow.
Now, if you have a solid strategy to market and build your email list, you are never going to lose money.
5. Tough to grab attention. 
According to Statista, 306 billion emails are sent every day in 2020 and the number is increasing every year.
What this actually means is that the competition is increasing very much since more businesses are investing in email marketing after learning the value of it.
Because of that, it is becoming a lot harder to grab the attention of users on your email list.
In order to tackle this situation, you should constantly evolve and keep yourself updated with the best practices in the industry.
You should constantly run different A/B testing, experiment with your subject lines, content/ email copy, and call to action.
You should be more creative in your approach and stand out from your competition which requires a lot of energy and time.
6. People can unsubscribe if they want. 
This is a serious disadvantage of email marketing.
People are more likely to unsubscribe from your email list and not be a part of your audience if you send lots of promotional emails or emails with irrelevant information.
You should be very careful regarding what type of content you send to your email subscribers and how frequently you send them so that you don't let them forget your brand but still make money by not being a spammer.
So these are all the advantages and disadvantages of using email marketing for your business.
So is email marketing really worth it?
Yes, Email marketing is definitely worth it for a few important reasons which no other marketing channel have like,
You own the audience you build.
It has incredible ROI and huge user base.
Emails are never going to die – No matter how many new technologies arise we will still use emails.
Because of all these reasons email marketing is by far one of the best digital marketing strategies you can use in 2021 and beyond.
This is everything you need to know about whether email marketing is really worth your time or not.
Share this article if you have found it helpful.
Peace!