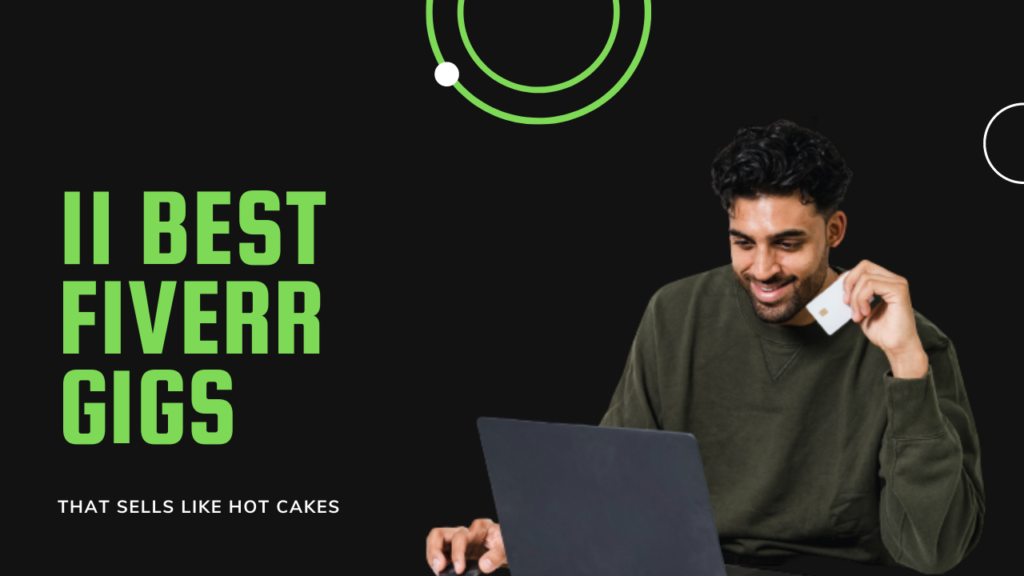 Freelancing is a great and easy way to make money if you have a service to offer that's pretty good in demand. Plaforms like Fiverr makes it even easier for you to list and sell your services online.
But if you do not have a skill or a service to offer, you could learn and then start listing your service on Fiverr. And if you are here, you'll probably be that person, right?
So here are 11 best Fiverr gigs that you can learn and then sell online.
If you are not already registered on Fiverr, Click here to create your account.
Related Article – Are Freelancing Sites Worth It? Should You Use Them?
1. Creating Shopify Dropshipping stores for people.
This is the best Fiverr gig that you can offer right now. A lot of people are starting their own dropshipping store right now and people want professionals to do it for them.
If you are very much new to dropshipping, I highly recommend that you learn more about them on Youtube. I won't recommend taking an online course for that because there are a lot of fake gurus out there.
Try looking into Youtube videos from Biaheza, Sharif Mohsin and The Ecom King. I believe they are pretty much real and are not fake gurus.
You could easily list your service between $30-$500 depending on your level of expertise. Please don't charge $500 right from the start. Start from a small amount and then build up your experience.
Related Article – How To Scale Your eCommerce Business Using Fiverr?
2. Social Media Marketing Manager
Another huge potential that has a lot of demand right now is Social media manager. Particularly, those gigs that claim to increase engagement and followers for Instagram is doing quite good on Fiverr.
However, this is something that you should learn and test it out yourself to see the results. Since this is a result-based service, if you fail to deliver as promised, you will have a lot of unsatisfied customers.
So make sure you learn and then use a test account (Instagram, Facebook or Twitter) to test those strategies yourself before listing your service on Fiverr.
You could charge anywhere from $40 to $200 depending on the number of days of management and your expertise.
3. Facebook/Instagram Video Ads
Video ads are used by businesses or marketers to promote their products or services online. Since there's a huge demand for dropshipping these days, videos ads are becoming increasingly popular and most people can't do them on their own.
If you have some experience in video editing, it would be great. But if you don't have any experience, you could easily use a software called InVideo to create those videos for your clients.
Learn how to use InVideo by watching the video below.
You can charge anywhere from $15 – $300 for this. The rate depends on what videos you use and how professional it looks. If you use stock video or other videos from the internet, the rate must be between $15-$50. But if you use original videos that you filmed and edited, you could charge a lot more.
4. Web Designing with CMS
Web designing is something that's never going to lose demand in the near future and is surely one of the easiest and best Fiverr gig among this list.
Offline businesses are all transforming their products and services online in order to increase their sales and revenue.
With the introduction of CMS like Wix, WordPress, etc, It has become very easy to build and design websites. Using their drag and drop builders, professional websites can be created in just a few hours.
You will surely need to learn about designing and also about the platform before proceeding. There are loads of videos on Youtube, so make sure you watch them.
You could charge around $30 -$50 per website when starting. Then eventually increase your price to $100 – $500, when your experience develops.
Related article – 12 Easy Fiverr Gigs Anyone can do to Make Money
5. Stream Overlay
Stream overlays are graphics that gamers include in their live videos when they stream. It's quite a popular thing in the gaming community.
This skill is a bit hard when compared with others because it does require you to learn some graphic design skills. However, there is a small workaround for it and that is by using a website called Placeit.
They do have a lot of stream overlays that you can modify and then you could sell it on Fiverr. Keep in mind that Placeit is a paid platform and will cost you about $12/month. But that's an investment you should make for this to happen.
You could sell it for around $10 when starting and then eventually increase it to about $30-$50.
6. Logo Design
Logo design is one of the few services that's pretty much saturated and a lot of people are providing the service. But, that doesn't mean there isn't any demand.
Since every business needs a logo, this service won't ever go obsolete. Having some skill in graphic design would be better. But if you don't have the skill, you could use Placeit. Placeit has a lot of templates that you can use. Just modify them according to your client's business and needs.
You could also look up for logo designing tutorials on Youtube and build up the skill.
Logo designs normally sell for around $20-$30. But once you are a bit more experienced, you could charge as high as $100-$150
Related Article – Is Freelancing Worth It In 2021?
7. SEO Service
Search engine optimization or SEO is a great service to offer if you know what you are doing. There are a lot of scammy, stupid gigs on Fiverr in the name of SEO which is probably done by those who don't even know what SEO is.
Some services under SEO include (Click on the link to know more about them):-
Link building
Optimizing On-page SEO
Keyword Research
If you are going to go down this route, I strongly recommend you study the ins and outs of SEO. Also, test out the different strategies that you learn and only then should you start selling your service on Fiverr.
Link building is an extremely time consuming process. So, you can charge around $200-$300 depending on the number of links. On-page SEO can be listed for around $50-$150 and for Keyword research, you could charge around $50-$100 depending on the number of keywords you provide them.
8. Article/Blog Writer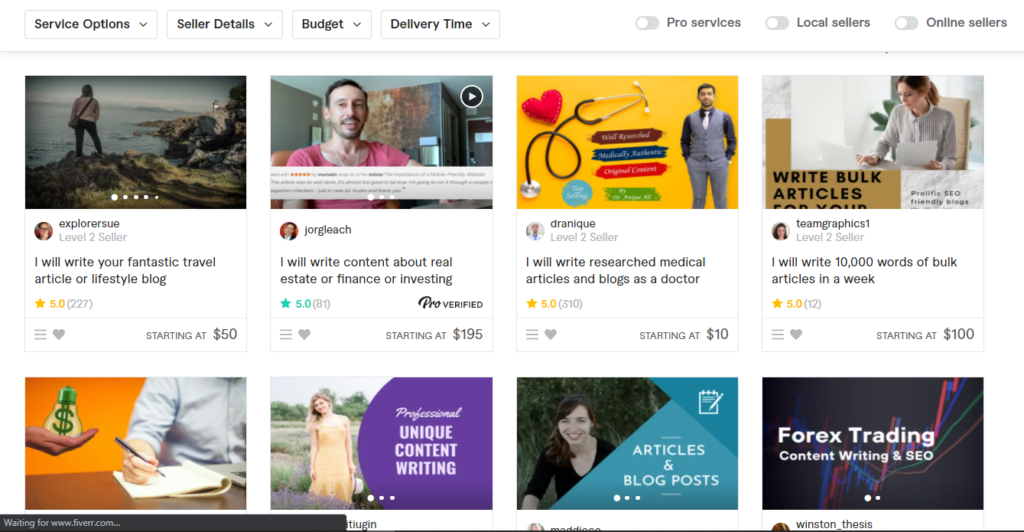 Content writing is a great way to earn money through freelancing. Professional bloggers and internet marketers usually hire freelancers to write for their blog.
The best part of this is that if a client really loved your work, he/she will hire you frequently or whenever needed. This way you could establish a long term relationship with your client.
Basic English skills is required for this. If you are a native English speaking person then that would be perfect. If you are not good at it, I'd highly recommend you to learn it.
You could easily charge around $20-$150 depending on the number of words and your level of expertise.
9. Youtube Banner and Thumbnail
There are a lot of youtubers on the planet. Most of them do not have a good banner nor do they have a good thumbnail for their video.
Basic graphic designing skills would be great. Placeit can also help you here. There are a lot of templates to choose from their gallery. Just edit and send it to them.
If you are good at Photoshop and others, then that would be good because it will give your a bit of uniqueness and will stand out from the crowd.
You could charge around $20-$60 per banner and $10-$30 for thumbnails.
Related Article – How to Start Freelancing Without Any Skills? (7 Ways)
10. Flyer/Brochure Designing
Flyers and brochures are used by offline companies or brands to market their service, product, event, etc.
You can use the help of Placeit here too. Just make sure that you edit them accordingly before giving it to your client. Basic designing skills is preferred.
You could charge around $20-$50 per Flyer and $50-$150 per brochure (depends on pages).
11. Intros and Outros
Intro and outros are short video clips that play at the beginning and end of a video. It's usually seen on every youtube video. These clips mainly highlight the company/brand's logo with some animations and background music.
These videos are bit harder to make if it does involve animations but has a huge demand on Fiverr and you could be making a lot of money from it.
There are many intro/outro makers online but I won't recommend it because most of them are pretty much lame and won't stand out.
I would highly recommend you learn how to use Adobe After Effects because that's the software that you would want to focus on if you plan to go ahead with this gig.
Related Article – Is Fiverr Legit? Or Is it a Scam Website?
Getting Your First Order on Fiverr
Getting your first order can be tricky and frustrating because it will take some time.
I have explained extensively in this article on how you can get your first order on Fiverr. However, if you are lazy to read it, here's the summary.
Using Fiverr Buyer requests feature
Quora marketing
Using Instagram
Add videos to your gig
Good descriptions
Giving something for free
Create your own website to look professional
So, that's all for now. Hope you get your first order soon. Please do let me know when you get it by commenting down below.
Peace!