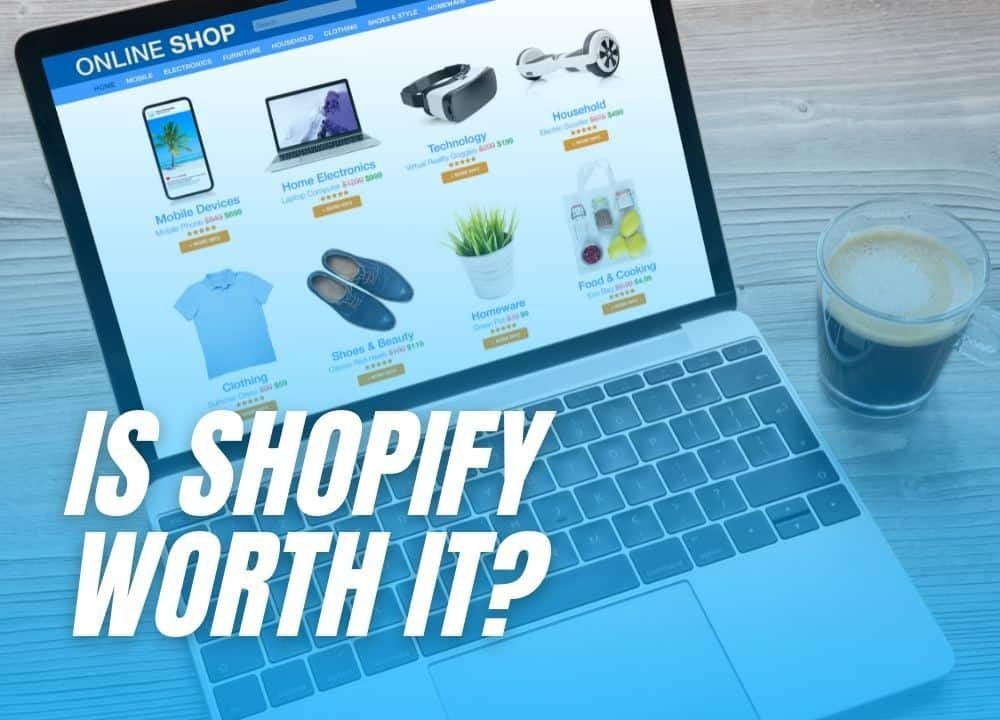 Ecommerce has been skyrocketing. The number of people starting their eCommerce journey is huge.
Shopify is the main platform that is taking advantage of this enormous industry. But is the hype real? and Is Shopify worth using?
Yes, Shopify is definitely worth it and is one of the most advance and powerful eCommerce platforms out there. It has almost all the features that a typical eCommerce platform would want. All of this packaged into a pretty competitive price makes it unique and quite appealing for a lot of entrepreneurs out there.
Keep reading on and find out why Shopify is great and why you should be using it.
6 Reasons Why Shopify is Worth it
If you ask any eCommerce entrepreneurs about which platform they use for their online store. The majority of them would answer it as Shopify and that itself tells you how good the platform is.
Here are some of the 6 main reasons why Shopify is used by many:-
1. Ease of Use
The best thing about Shopify is its easiness to use. Any beginner starting out is definitely not going to have any problems in navigating and learning about it.
All of it is arranged so well that you would never be confused about what to do.
2. Online Store Builder
Shopify has a great site builder that stands out from the rest of the competitors. It's so clean, fast and you could make an awesome-looking store within minutes.
They are divided into blocks and you could place those blocks anywhere on the page.
You can add Featured products, Custom HTML, galleries, Blog posts, and a lot of other blocks. Here's how the Store builder looks like:
3. Clean and Professional Themes
There are hundreds and thousands of themes available for Shopify. Most of them are created by third-party companies and a lot of these themes look really good.
To stand out from the competition, it's always better to get a theme that's unique and professional.
If you are using any of the free themes that Shopify provides make sure you completely revamp it so that it doesn't look like other 1000s of online stores.
I found Debutify to be quite good in terms of its design and features. Do check it out if you want to use it on your online store.
Related Article – Is Shopify Dropshipping Worth It?
4. Reporting Tools and Analytics
Shopify has got the best analytic tools out there. It's simple, professional, and displays almost everything that you would ever want to know about your store.
Advanced reporting is only available on their higher plans however, that's not much needed and you will be totally fine with the reporting tool that comes with the basic plan.
Moreover, their real-time dashboard is so immersive and looks pretty cool. You can't really find this kind of reporting on any other platforms.
I suppose you must have already seen this dashboard and analytics because there are a lot of "Gurus" out there flexing their revenues with this.
5. Shopify Apps
There are more than 6000 apps on the Shopify app store right now. These apps extend the functionality of Shopify.
Whether it's an email marketing tool, reviews app, fulfillment partner, or anything, there will be an app out there.
The only problem is that a lot of these apps are paid and this is going to add up if you have plenty of them. But, like everything out there, there are plenty of free alternatives for many of those apps.
6. Ability to Sell on Multiple Platforms
Shopify allows you to sell your products directly on multiple platforms like Facebook, Instagram, or another website.
You could integrate your online Store with Facebook Shop and also link products on your Instagram page.
2 Reasons Why I Hate Shopify
1. Pricing of Paid Themes
Themes are pretty expensive on Shopify. The pricing ranges from $80 to about $350 per theme.
My advice would be to start from a free theme and then gradually buy a new theme once you start profiting from your store.
Start with Debutify. It's a free theme and you will only need to upgrade if you want to use their additional features.
2. Advanced Plans are Expensive
Shopify's basic plan is priced at $29/month which is quite competitive and is affordable to most people. However, they have 2 other plans which are priced at $79/month and $299/month.
These plans won't be of use to you unless you scale your business with a lot of people managing your store. Otherwise, you are all good with the basic plan itself.
Related Article – How Much Does It Cost to Build a Shopify Website?
Alternatives to Shopify
1. Woocommerce
There are a lot of alternatives to Shopify. The best alternative to it would be WooCommerce.
WooCommerce is literally free as it is an open-source software. However, you will have to buy a hosting plan from any hosting provider. I would recommend either Bluehost or EasyWP.
And because of this, it is quite inexpensive to start. You will only need about $3-$4 per month to start. This when compared with Shopify's $29/month is quite huge.
But, I have found Woocommerce to be a little bit less attractive when it comes to design and actual usability. It will be harder for a majority of people to navigate through the Woocommerce interface.
The themes are also a bit less attractive when we compare them with the large collection that Shopify provides.
However, Woocommerce is an awesome solution who wants to start an online store with very low risk and for those who are a bit tight on money.
2. Wix
Wix is a good platform for eCommerce. However, I wouldn't actually recommend it. The dashboard is slow and a bit confusing.
They do have a very flexible online store builder which I like. You will be able to drag and drop elements anywhere on the page. It has to be the most flexible website builder that I have ever seen.
But it does come with its own limitations and that is the site is slow. In whatever way you arrange the site, the site is slow when compared with a lot of other platforms.
Wix is also a bit expensive for the eCommerce plan and you would be better off if you choose Shopify instead.
3. Ecwid
Ecwid is a great platform and I strongly believe that they are going to be a major platform that competes with Shopify in the years to come.
They have a free plan but it's limited. You can't even link a custom domain to your store on that free plan.
Their paid plans start at $15/month which is quite competitive and you can try it if you want.
There are quite a few apps on their store that extend the functionality but not as much as Shopify.
So, Is Shopify Really Worth it?
Yes, Shopify is worth it. For $29, there aren't other platforms that provide such great features and functionalities. The closest competitor to Shopify is surely Woocommerce.
If you are still in doubt to start with Shopify, just sign up for the 14-day free trial and see for yourself. Test out the features and see if it suits your eCommerce business.
But if you can't afford the $29/month, then I would probably advise you to start with Woocommerce by buying a hosting plan from Bluehost or EasyWP.
So, I hope this article helped you. Feel free to share this content with your friends and family.
Good luck and Peace!