Humans are never perfect. They tend to do mistakes. Spelling and Grammar mistakes are some of the small mistakes that we usually do.
Grammarly is such a tool that helps you in your grammatical and spelling errors. But is it good enough?
Let's find out in this Grammarly review.
I have been using the free plan of Grammarly since January 2019, when I literally started this blog. So, this Grammarly review will be solely based on my observations that I found in this time period.
What is Grammarly?
Grammarly is an online grammar checking, spell checking and plagiarism detector for the English language. They were introduced in 2009.
In addition to the online Grammarly editor, it supports different platforms too. They have a native application for Windows and Mac, a Grammarly keyboard for Android and iOS users and a free browser extension for Chrome, Safari, Edge and Firefox.
I personally use the browser extension.
Also, See:
Features of Grammarly
Grammarly currently supports the following features:
Features that are on both Free and Premium:
Spell Checker
It checks for spelling mistakes in whatever you write. It's robust and you can choose between different variations of the English language ie, you can choose between American English, British English, Canadian English and Australian English.
Grammar Checker
Checks for grammar mistakes that you made while writing. The way it checks is good. But, at times the grammar checker is not that accurate. I have experienced that problem 1 or 2 times, but not more than that.
Definition and Synonyms
This is a great feature that I particularly liked in the free version. It gives you the synonyms and definitions of words that you wrote by double-clicking on them.
If there is a word that you use a lot, you could just double-click and replace it with its synonym. It's a small feature, but quite powerful.
Punctuation Checker
It offers basic punctuation checking like inserting a comma. It's pretty good because I often forget adding these commas between sentences and Grammarly has been really useful for that.
Additional Features only Available on The Premium Version:
Plagiarism Checker
This checks for the same content in more than 16 million web pages. This is very useful if you are a blogger who accepts guest posts or hires a writer.
You can check for copied content using this tool. If the tool finds a copied content, It even gives you the link on the original content so that you could check for yourself.
Advanced Grammar Checker
Premium user gets a more advanced grammar checker. It detects the use of passive voice, readability problems, repetitive use of same words, punctuations and other great advanced mistakes.
Sentence structure
It corrects your sentence structure and your writing styles like incorrect adverb placement, adding verbs, faulty parallelism and many others.
Adding Words to your Personal Dictionary
The premium plan offers a personal dictionary where you can add words of your choice. This is useful when some words you use in your native language needs to be converted to English but there isn't an alternative.
It isn't much of a dealbreaker but still a pretty good feature.
Other Additional premium features to note are:
Specific Style checks
Get performance stats via Mail
See explanation of Grammar Rules
Catch Contextual spelling and grammar mistakes
And much more
How It Has Helped Me As a Blogger
Grammarly is one of the best tools that I have used for blogging and I have included it in my top 12 Tools for Blogging.
It's a great alternative if your planning to hire proofreaders. Although technology can never replace humans, for a blogger, Grammarly is definitely more than enough.
Writing your articles becomes super easier with Grammarly. Each mistake that you make is underlined in red and you can choose to change it with the suggested word.
Pros Of Grammarly
The Free plan of Grammarly is more than enough for a beginner Blogger.
Error detection is great.
Double-clicking a word provides you with its synonyms and definition.
Accurate
Plagiarism checker is an awesome feature for bloggers
No need to hire Proofreaders.
Cons Of Grammarly
The only problem I found with this tool was its incapability of integrating with google docs. It doesn't work with Google Docs and I think they are trying to figure it out and may feature in the future.
Do You Really Need It?
Grammarly is for those people who write a lot on their laptops. Like sending emails, blogging, working on your project, preparing your slides etc. It's perfect for these people.
But, if you are an author, you can use Grammarly. But, it would be safer if you hire a proofreader in the end.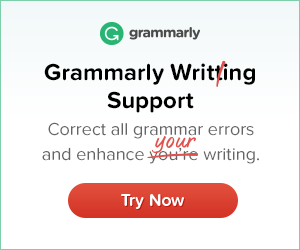 The paid plan of Grammarly, in my opinion, is great for professional bloggers and writers. It is a bit costly and that's the reason why I don't recommend it for beginners.
The price starts at $11.66/month if you choose to pay annually otherwise it's $29.99/month. But I don't think this price won't hurt much for professional bloggers and writers.
I definitely recommend using Grammarly. Apart from the incompatibility with Google Docs, there isn't much to complain about.
Thanks For Reading!
Peace!