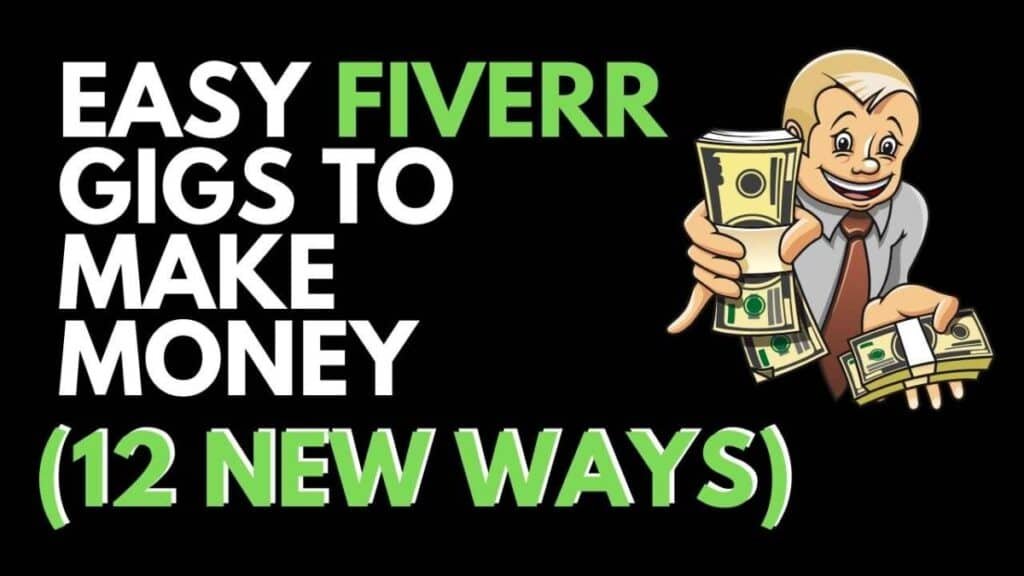 Fiverr is a very popular micro-gig site and thousands of people have made a regular income from it. Here are some easy Fiverr Gigs which anyone can do to make money.
Fiverr marketplace is for freelance services. It was founded in 2010 and provides a platform for freelancers to offer their services to customers worldwide.
What Can You Sell On Fiverr?
You can basically sell anything.
Giving advice, singing a song, designing a website, or anything that you are an expert in, may sell on Fiverr. I have seen so many weird and funny Fiver gigs out there that have more than 100 orders for each of them.
A small tip– When starting to sell on Fiverr, begin by providing your services for $5. When you are new, no one is gonna buy your gig if it's priced above $100. You need to slowly build up your customers and then increase your price as you go on.
Please Read – Lately, I came to know that Fiverr was an Israeli-based company. I am completely against Israel and anything that funds them. Since I rank on Google for this post, I thought it would be better to let people know this instead of just deleting this post. That way, I may be able to convince at least 1 or 2 to stay away from this platform. I used to promote them in the past (as an affiliate) and now I have stopped it completely. Try using other platforms like Upwork or Toptal but please try to stay away from Fiverr. #FreePalastine
Here are 12 easy Fiver Gigs that anyone can do to make money.
1. Deliver a Message or Write a message – Creative Fiverr Gig
Be creative here, Offer a gig that delivers a message. It can be anything like you holding a board with a message on it or you could even write something on a beach during sunrise/sunset.
This Fiverr gig can be charged $5 for each. If you are taking a bit more effort, you could charge even more.  I have seen people dressing up as something or somebody while delivering a message and the surprising part is that they sell well. Just look at the Fiverr gigs that are shown above!
Related Article – Are Freelancing Sites Worth It? Should You Use Them?
2. Social Media Manager as a Fiverr Gig
If you use Facebook, Instagram or Twitter daily, you could easily take up this gig. This is one of the easiest Fiverr gigs out there and also you won't get bored of it.
Social Media Management usually involves creating some posts and growing your client's Instagram, Facebook or Twitter account. You could easily charge around $20-$30 for month-long management when starting.
3. Content Writing
If you know any language fluently, then this one can suit you well. You could provide services like writing blog posts, letters, articles, and much more.
You can charge anywhere around $5-$20 (or even more when you gain experience) for each article.
Related Article – How To Get Your First Order On Fiverr? – 3 Easy Ways
4.Whiteboard animation
I bet you wouldn't have thought of this one being on the list of easy Fiverr gigs.
Whiteboard animation is not as tough as you think it is. There are a bunch of software out there that makes this job so much easier and you could make a video in just about 1-3 hours.
The one I would recommend using is Videoscribe. It's one of the best software for making these types of videos. It's also pretty cheap at just $8/month.
You could easily charge more than $30-$50 for each video.
5. Writing Comments on Blogs – Easiest Fiverr Gig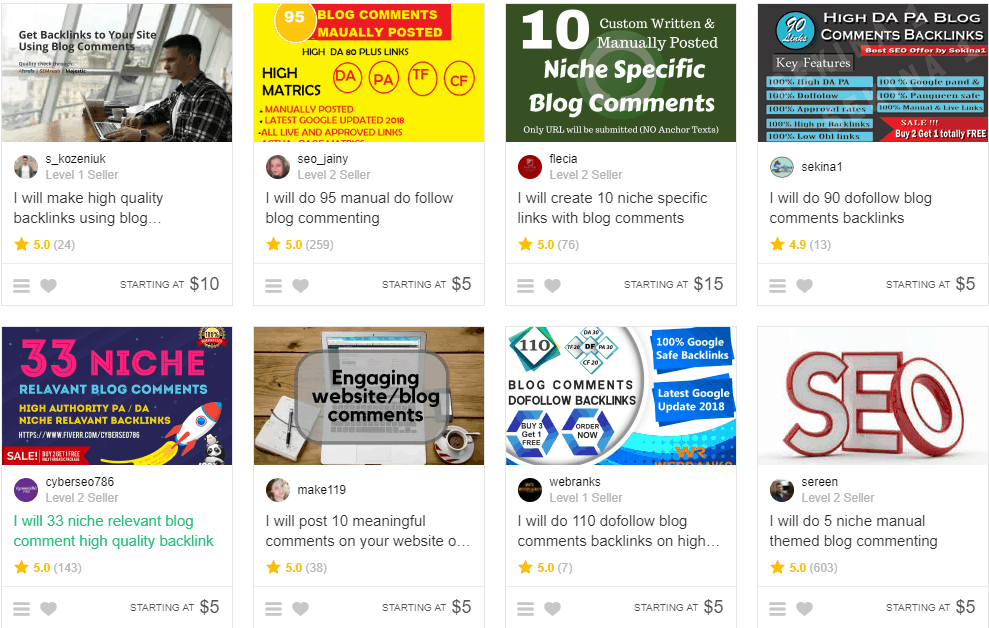 You can make easy money just by engaging with blogs which mainly include commenting. Just make sure that you read the whole article before commenting.
The only thing to keep in mind while commenting is that – "Do not be a robot and make those comments look Spammy"
People charge around $5 for posting 10 comments.
6. Design Something on Canva
Canva is truly a great place for designing and the best part is, anyone can do it. Even beginners who have no prior knowledge can design on Canva.
When listing this gig on Fiverr, you should specify that you will be using Canva to design.
You could sell this gig for at least $5, and when you gain experience and rating you may increase the price.
Related Article – 9 Low Competition Gigs on Fiverr for 2021!
7. Do a Voice-over for videos
Youtubers or other video makers may be looking for people who may do voice-overs for their videos.
If you have a good accent in any one language, that would be enough.
But, if you don't want to use your own voice, you could use an AI voice-over called Speechelo. It's really great and doesn't sound like a robotic voice. (But, make sure that you mention it's an AI voice-over in your gig)
You can charge $5 for 200 words when starting. Don't forget to increase your price because I have seen some people charging over $30 for just 50 words!
8. Language translator
Do you know any 2 languages in an okay-ish way?  Offer this service and you could earn anywhere from $5 per gig.
Translating may include document translating, audio translating and more.
9. Proofreading
Proofreading is the process of reading an article and marking or correcting the error in them.
The error may be grammatical, spelling mistakes, etc. So make sure that you are good at any language before you take up this job. You can sell this for $5 for 1000 words.
Related Article – 11 Best Fiverr Gigs That Sells Like Hot Cakes!
10. Come up with Business Names.
Startup companies and businesses are looking for names that they can name.
Come up with creative names and you could easily make some money doing that. You could charge around $5 for each gig.
P.S – Use business name generators like Namelix or Bagdomains for making this a lot easier.
11. WordPress Setup
Expert Bloggers don't have the time or are too lazy to set up their own website and you could quite easily do that for them.
If you do not know anything about WordPress installation you could refer to this Website/blog setup tutorial and you would only need to spend less than an hour to study that.
You could also try providing Installation of themes and plugins along with it. This gig can be sold for $5-$10 on Fiverr.
12. Playing Games – Weird Fiverr Gig
This might sound a little bit weird but I have seen this stupid, weird Gig on Fiverr. 
There are many boys/men who really want to play games with girls and there are people who pay to do that. Some games include PUBG, Fortnite, Overwatch, etc. which are multiplayer online games.
Many girls are selling this gig and you could do it too. You could charge $5 for each game or for each hour. It's easy money!
So these are the easiest Fiverr gigs out there. You just need to work on it and build up your buyers.
Related Article – Is Fiverr Legit? Or Is it a Scam Website?
Another tip –
For the 99% of the people starting on Fiverr, Don't get your hopes high and think that you will get an order on the first day itself. It takes time. There are already thousands of people on each of these Fiverr gigs competing for an order.
So How to get your first order?
Make your Fiverr Gigs Unique
To do that, search for the services on Fiverr which you are planning to do. Do research on at least 20-30 of these gigs. Ask yourself –
How you can improve the title and description?
What extra can you offer besides everyone?
Then go and create a new gig with everything you have. Try adding an FAQ section as well as providing a money-back Guarantee.
But most of the time, even if you do everything, you still won't get any orders.
Don't Worry! There's away. 
Buyer Requests is a smart feature that Fiverr has added and it can help you get your first order on Fiverr. Know more about Buyer requests here.
So that's all for today. Please do let me know when you get your first order on Fiverr.
Thanks and Peace!
---
Best Tools For Freelancers
If you are working on your own, there are a lot of things that you would need to do. Here are some tools that can help you in your freelancing journey
1. FreshBooks
Freshbooks is basically an accounting and invoice software for small businesses and freelancers. It enables you to create invoices easily, track client-related things, automatically track invoices, payments, and everything.
They also offer additional features like automatic payment reminders for clients who do not pay on time, expense tracking, and offer a lot of different payment options.
You can try Freshbooks for free for the first 30 days. After that, you can choose one of the plans starting from $15/month. Right now they have an offer and you get it for as low as $4.50/month.
2. Canva
Canva is like a universal tool for all freelancers. Whether you are a writer, designer, coder, or be anything, you might need Canva somewhere in your freelancing career.
For all those, who don't know what Canva is – It is basically a designing software that lets you quickly create graphics and designs without much effort.
I use Canva for all my featured images on my blog.
Canva is free but some of the elements, templates, fonts, etc are only available on their pro plan. Canva Pro is priced at just 12.99/month and can be a great investment if you struggle to do designs yourself with other tools.
3. Notion
Notion is a great productivity tool that lets you stay organized by keeping track of everything, setting tasks, goals, etc.
It can be of great use if you do have a team of people working together. You will be able to keep track of all the tasks and items between your team.
Notion is free if you are using just for yourself. But if you want to use it as a team, it will cost you $8 per month.