The sales funnel has been the cornerstone of marketing strategy since 1898. Even, if it's that old, this strategy has never lost its power.
It still converts like crazy if you implement it correctly.
Now, with the internet, and other tools, implementing them is quite simple and any businesses can build one for their products.
But, How much does it cost to build a sales funnel?
A sales funnel can cost anywhere from $30-$50,000 depending on who does it and what tools you use. If you build a sales funnel on your own it will cost you just under $100/month considering the tools you use. However, a Professional sales funnel expert can charge you an average of $15,000 dollars for a single sales funnel!
So, Which one should you go for? Build one on your own or hire a Professional?
Let's find out in this post.
What is a Sales Funnel?
Sales funnel is the way by which visitors go through a series of pages where they may convert from visitors to leads and sometimes these leads may convert into customers.
Sales funnels are usually composed of many pages and emails. You may see an opt-in page, a thank you page, an upsell page, a down-sell page, series of emails etc.
And if you did provide your email address in the opt-in page, you would most likely get a series of emails for the next couple of days which will contain a product that a particular business wants you to buy.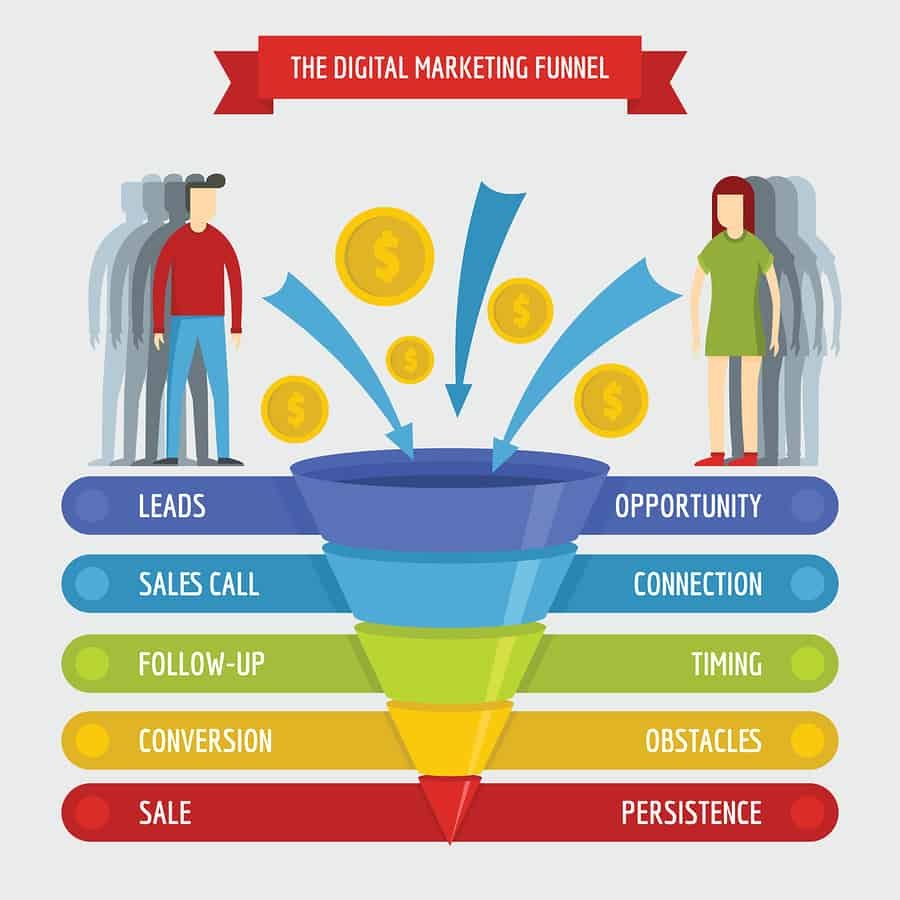 These types of sales funnels do take a lot of time and testing to build one. Some of them may convert well and some of them won't.
So, if you are a business, a sales funnel is a must. If you know how it all works, or have a particular marketing strategy in mind then you can build one too quite easily.
There are professional people who do it too but it may cost you a lot.
How much does a sales funnel cost if you build one?
Building sales funnels have been so much easier these days. There was a time when you had to charge thousands of dollars to web developers alone to build just the web page.
And that doesn't involve the sales copy nor the emails. For that, you had to hire copywriters separately.
But after the invention of tools like Clickfunnels, Kartra, Leadpages, etc it has never, ever been so easier to build one.
You just have to pay a monthly fee to any one of these software and that's just it, you would have everything you need to run your business online.
A typical sales funnel consist of
Squeeze Page
Thank you Page
Upsell and Down sell Pages
Automating Emails (To send out after a person opt-in)
So, if you are planning build one, I would recommend Kartra or Clickfunnels.
They both are the 2 best software in this industry.
Clickfunnels will cost you $97/month (Free Trail For 14-days )and Kartra, $99/month (14-day For $1) for their basic plans.
Now, some of you may still think that it's too pricey. right?
That's because you don't know how much a ready-made sales funnel would cost a business before the invention of these tools.
Both tools are pretty straightforward to use. They both have an awesome drag and drop builder, which will let you build landing pages quite easily.
Having only these tools isn't enough. You still have to draft the sales copy and email swipes for the product. If you are good in English, that won't be a great problem for you.
So, if you build a sales funnel on your own, it's going to cost you just under $100.
P.S – Clickfunnels doesn't have an email marketing tool on their basic plan. Their premium plan cost $297/month. But, you don't need to buy their premium plan just for that because Clickfunnels can integrate with almost every other email marketing tools out there.
How much does a sales funnel cost if you hire someone?
Hiring someone is the best way if you want to get a high-converting sales funnel that can you can set up and start in a very short span of time.
But, it will cost you a lot.
I'd recommend this only to those businesses which currently generates a good income. It's better if beginners stay out of this.
However, you can get a sales funnel built for around $100 on Fiverr. But, I won't recommend that at all. Mainly because we don't know if the seller is an expert funnel builder.
What I would recommend is going out on Youtube and Google. Then look for digital marketing experts, who are currently making money online with sales funnels.
They are pretty easy to find. You just need to type in "How to make money from clickfunnels" or "Make money with sales funnels" etc on Google or Youtube.
In these tutorials (Youtube or Blog post), they will show you their funnels and how they built them. They may even show you how much they make from it.
If you believe that they have a pretty good conversion rate, then email them asking if they would build a funnel for you!
Now, keep in mind that they will charge you anywhere from $1000 – $50,000 depending on their experience and how big the funnel is.
Why do they charge this much, right?
There is a good reason for that!
These people are professionals. They already have a sales funnel that brings in a lot of income for them. They are also more likely to get more money if they implement a sales funnel for their own purpose.
So, spending 1 or 2 weeks to build a sales funnel for another business is a pretty bad deal for them. Because they are sure they can make more than what they are charging if they built one for their own use.
Now, you decide! Do you want to build one? or Hire someone to do it for you?
What I Recommend
I'd recommend you built one on your own because there are literally thousands of training videos and tutorials available completely free on Youtube as well as on some blogs. You could literally copy that and modify it according to your needs.
I myself have made a tutorial for building a sales funnel for promoting affiliate products. You can check it out here.
Don't Know Where To Start and How To Build?
If you want to build a sales funnel and don't know where to start and how to do it. I've got it covered.
The first thing to do is to choose what you are going to sell with a sales funnel. Affiliate product, your own product, etc. It can be anything.
After that, choose a platform. I recommend Kartra or Clickfunnels. You may choose any one between them.
If you want to start for free, Clickfunnels is what you should choose. They offer a 14-day free trial. Karta doesn't offer a free trial but you can start using it for as low as $1 for the first 14 days.
Then watch the below Training videos depending on which Platform you chose
For Clickfunnels Users